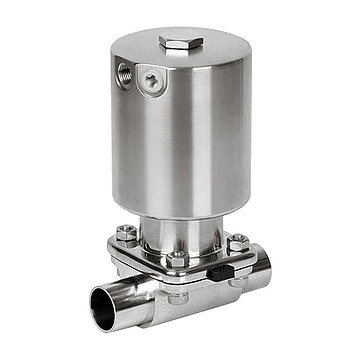 Steripur 417 - pneumatic - DIN
Valve style
Diaphragm valve
USAGE

On/off service
Aseptic service
VERSION
DIN
MEDIUM TEMPERATURE
10 to 160 °C / 50 to 320 °F
SUPPLY
Pneumatic
VALVE SIZE
DN 15 to DN 50

PRESSURE RATING
10 bar
Lining
without
The valve Steripur 417 - pneumatic - DIN can be combinated with the following actuations:
Special features:
On request, SAMSON selects the actuator best suited for the valve and application.
Special features
Pneumatic diaphragm valve
Two-way diaphragm valve
Series: Steripur
Diaphragm size: MA 25 to 50
Stainless steel actuator
CDSA sealing concept
Autoclavable
Options
Manual override with optical position indicator for pneumatic valves
Optical position indicator
Stroke limiter
Stroke limiter with optical position indicator
Stroke limiter with manual override and optical position indicator
Travel stop with manual override
Travel stop or stroke limiter
Electrical position indicator
Information
Support
Certificates
Only up-to-date documents are shown in the product selector. Check the documentation site for a list of all documents available.
Pin product
Pin items on your list and contact us if you have any product-related questions.