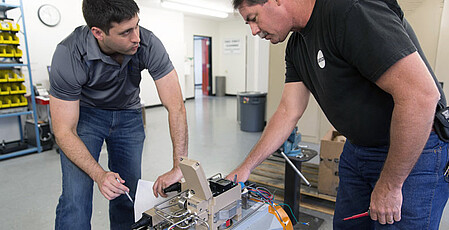 As a part of the SAMSON After Market Strategy (SAMS) to provide local service, we service all linear and rotary valves for all ten of the SAMSON Group manufacturers. Our technicians will also train maintenance staff on SAMSON products. Service centers are responsible for all return of product, sales of spare parts, and warranty claims. SAMSON service facilities are strategically located nation-wide to serve you better.
On-site service and repair
Our experienced field technicians are trained to diagnose, service and repair on-site on all SAMSON products. All technicians are fully trained and knowledgeable on safety protocols for visiting customer facilities.
Our technicians perform all types of service related work, including but not limited to:
Seal replacements for external leaks
Packing replacements or adjustments
Fugitive emissions enhancements to valves
Trim replacements
Retrofitting or modifications to accessories or actuators on valves.
Diagnosing and correcting electronic devices
In-house service and repair
Our in-house facilities provide pick-up and delivery service. They are equipped to handle Class A and standard repair for control and on/off valves for all SAMSON Group products.
Pick-up and delivery
Class A type repair
Clean and tear down
Sandblasting or glass bead blasting, if necessary
Machine parts, if necessary
Full repairs and replace with new parts
Reassemble and recalibrate valves and accessories
Painting, if necessary
Perform leakage test
Positive Material Identification (PMI)
Standard repair and maintenance
Training
SAMSON provides educational seminars, hands-on training of routine maintenance, positioner calibration, and reversing of actuator for fail-safe modes.